Welcome to Centretown United Church!
We are your neighbours on Bank Street (507 Bank Street, just north of Catherine) in Ottawa's Centretown - a welcoming faith community with a commitment to reaching out beyond the walls of our church building to share the Good News of Jesus Christ in word and action.
We come together to worship at 10:30 AM every Sunday .
Check out our Facebook page: https://www.facebook.com/CentretownUnitedChurch
Centretown United participates in the ALS Ice Bucket Challenge! - see the 30 sec video!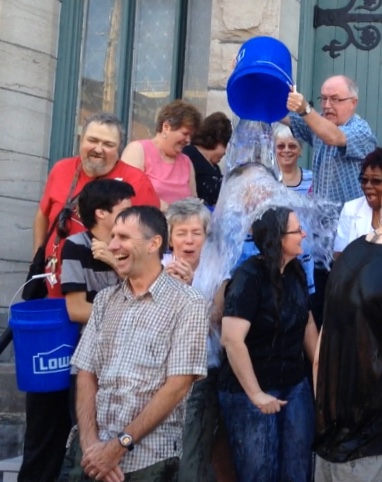 Upcoming Events:
- Art Exhibit and Open House - Apr 17,18 - Artistic Expressions Studio - click here for poster
- Click here to learn about upcoming events.

Centretown United Church is known for great music and passionate preaching (with humour!). The Sunday School welcomes children, and there is fellowship time after services.
How to Get Here
Centretown United Church is a downtown Ottawa church located at the corner of Bank and Argyle, one block north of the Queensway and two blocks south of Gladstone.
Parking is available on Sundays at Glashan Public School, on Arlington Avenue between Bank and Kent.
We have a ramp on the Bank Street side of the building, and an elevator inside.
Bus routes on Bank Street:
#1 Schedule and Map: South Keys <--> Ottawa-Rockliffe
#4 Schedule and Map: Hurdman <--> Downtown
#7 Schedule and Map: Carleton <--> St. Laurent
Bus route on Gladstone:
#14 Schedule and Map: St. Laurent <--> Carlington
Other Bus Directions:

Contact Information
Ministry Team

All the people of the congregation including:

Rev. David Illman-White, Minister

Nancy Desjardins, Office Administrator
Office hours Monday to Friday 9:00 AM to 1:00 PM
Telephone

FAX

613-232-9854 (call ahead during office hours)

Postal address

Centretown United Church, 507 Bank Street Ottawa ON K2P 1Z5

E-mail

Office: office@centretownunited.org
Rev. David Illman-White: minister@centretownunited.org